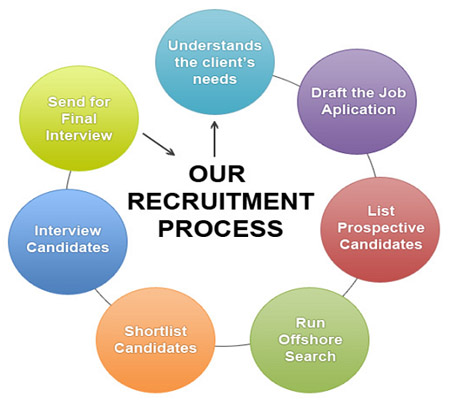 Procedures
The following are the procedures required to undertake the recruitment and selection process to completion. It splits the process into a number of stages. It is necessary to ensure that the procedures are followed as described since they are derived from legislation, company policy and good practice.

The stages are as follows:
Pre-advertisement.
Pre-interview.
Interviewing.
Post-selection.
Administration.
The following are stages for Pre-advertisement:
Avert text (and the advertising procedure).
Recruitment Request-HR/Finance Authorization Form.
Job Description.
Person Specification.
Occupational Health Evaluation form.
Recruitment Program(to be produced after authorization has been obtained).
The following are stages for Pre-interview:
Initial Contact with Potential Applicants
Application Form and Curriculum Vitae.
Receipt of Replies.
Confidentiality/Security.
Short listing.
The following are stages for Interviewing:
Invitations to interview.
Composition of Interview Panels.
Conduct of Interview.
Other selection Activities.
The choice of Candidate.
The following are stages for Post-selection Administration:
Offer of Employment.
Medical Assessment.
References.
The following are the other Stages:
Final Administration.
Candidate Feedback.
Observation.
Monitoring.
Unsolicited Applications.