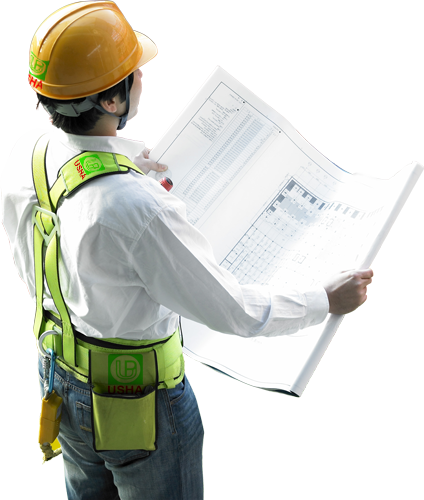 USHA provides a wide range of engineering and technical services in fabrication, erection and maintenance of heavy structures, high pressure pipe lines, boilers, coal handling, heavy equipment, vessels, towers, motors, pumps, turbines, etc.
USHA started as a specialist in the field of fabrication and erection of heavy structure and equipments along with pipelines. Over the years, we have diversified our activities to cross country pipeline transportation of iron ore, ash, and slurry .
USHA has to their credit to have a very strong association in the construction of world's largest and India's first coal based fertilizer plant at Talcher, Orissa, Super thermal power plant at Kanhia Orissa, and National Aluminum Company Limited at Angul and Damanjodi, Orissa.
In addition, USHA has to its credit to have erected the water supply pipelines from rivers to plant reservoirs in record time to meet the stringent time schedule of commissioning the plants of Jindal stainless Limited, VISA Steel Limited, Aarti Steel Limited, Kanhia Super Thermal Power Plant(NTPC) etc, to name a few.
USHA was also associated in Bailadila Iron Ore Project (NMDC) in erecting their crushing plant and responsible for erection of heavy structurals, chutes, bunkers, tanks, tall towers, vessels, motors, boilers, ducts, screw conveyors, rotary feeders, EOT cranes, electro static precipitators, vibrating feeders, crushers, agitators, turbines , generators , raw gas compressors(1L cu.m capacity), synthesis gas compressors, air compressors, expansion turbines, urea / ammonia reactors, bowl/ball mills, FD/ID fans etc and different types of piping like carbon steel, alloy steel and stainless steel ( AISI 304,304L,316,316L,321,347) for critical services where creep / corrosion resistance and controlled ferrite content is required), aluminum piping for cryogenic services etc.
Fabrication and erection of structure.
Complete construction works of Cryogenic Plants & Package Units
Piping.
CPC Projects.
Erection of Heavy Static and Rotary Equipments
Erection and Maintenance of Cross Country conveyor lines.
Survey Work .
Fabrication & Erection of Plant Piping & Technological Structures
HDD and Augur Boring